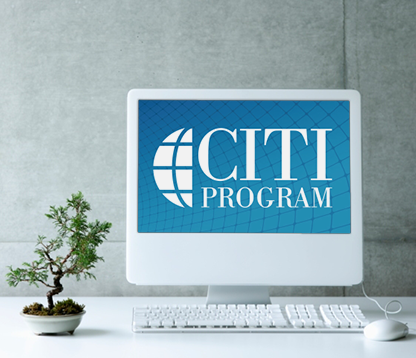 CITI is required animal protocol training at Syracuse University. The web based CITI Program offers research ethics, compliance, and professional development education on a number of subjects for various audiences, including researchers, students and faculty, research administrators, and IACUC members. Labs will be notified of the required modules for approved projects.
Syracuse University has chosen the Collaborative Institutional Training Initiative (CITI) Program  through the Biomedical Research Alliance of New York (BRANY) for all online Research Based Training. The CITI Program is the leading global provider of online research ethics education content and opportunities.
Individuals required to take CITI training required by Syracuse University must first create an account within the CITI website, or affiliate with Syracuse University if a CITI account is already in existence
Who is required to take CITI training?
All members of the research team listed in the protocol application or subsequent amendments are required to take CITI training. This includes the Principal Investigator and all other research personnel.
First time users will need to register. Training is free. To do this go to CITI website, click on "Register Here" and follow the instructions to complete the registration form. It is important that all information noted with an asterisk be completed and that you affiliate with Syracuse University during the registration process.
If you already have an account with CITI, you can simply enter your Username and Password.
Once you have registered, you are ready to choose your course needs and learner group in order to begin the required training.
What is the appropriate choice for my course needs?
Under CITI Course Enrollment Questions choose Lab Animal Research as shown in the picture.

How do I know which courses to take?
Choose all options that are required for the protocol(s) you will be working under. Your PI or lab manager can give you detailed information.
Everyone MUST take the first item in the list "Working with the Syracuse University IACUC Course".

Determine if your protocol work has the potential to cause "more than momentary pain and distress" in mice and rats. If so, select the course:

Choose all of the appropriate species-specific courses based on those listed in the protocol(s) you will work under.


Finally, click Next at the bottom of the page and begin taking the courses you've selected. The completion reports will automatically be sent to the SU IACUC Administrator.
How long does training take?
Most can complete the training in approximately four hours.
Does the training need to be completed all at once?
The training does not need to be completed in one sitting. It can be taken at your convenience. You can log on and off the CITI training website 24 hours a day seven days a week as long as you remember your Username and Password. Your training will pick up where you left off as each module must be completed in succession.
If you forget our Username or Password, instructions to retrieve this information are on the home page of the CITI website.
Do I need to submit a copy of my CITI training certificate to anyone?
No. You only need to submit a copy of your CITI training certificate if the training has been completed through an affiliation with an institution other than Syracuse University.
How long is my CITI training certificate valid?
Once you have successfully completed the required CITI training, your training is valid for a period of three years, after which it must be renewed if you continue working under the same or renewed protocol.
What do I do if/when my CITI training certificate(s) expires?
CITI training must be renewed every three years. You will receive an email notice from CITI 180 days, then 90 days, then 30 days prior to the expiration date for your course, but you may also log on to the CITI website to see when you are due to take your refresher course. You may complete the Refresher course up to 180 days (that is, six months) prior to the expiration date of your current CITI training.
At that time, the Refresher Course will automatically be populated into your Main Menu page under "Course." Simply click directly on the course title (e.g. Working With the IACUC) to begin your training. Your renewed certification will also be automatically sent to the SU IACUC Administrator.
Whom do I contact if I have questions or problems?
Contact the IACUC Administrator at mltouche@syr.edu or 315.443.1690 for general information regarding the training and/or training requirements.